August 1944 World War II Combat Interviews
of the 7th Armored Division
Bookmark this page as http://www.7thArmdDiv.org/7adci844.htm
Last updated: October 20, 2014 - What's New?
Combat Interview Main Page | 7th Armd Div Assn Main Page

7AD Interview Main Page | Aug 44 | Sep 44 | Oct-Nov 44 | Dec 44 | Jan 45 | Mar 45 | Apr 45
---
The following records and interviews were created in September 1944, covering the actions of the 7th Armored Division in France during the Northern France Campaign. These places and others are included in the records:
Utah Beach and Omaha Beach
La Haye-du-Puits, France
St. Suzanne, France
Louvigne, France
La Ferté Bernard, France
Nogent-le-Rotrou, France - first action
Courville, France
Chartres, France - major combat
Melun, France; Tilly, France; Seine River - major combat
Reims, France; Marne River; Aisne River - combat
Château-Thierry, France
Verdun, France; Meuse River - combat
---
This book is now available on Amazon.com. Click on the image of the book to go to the Amazon web page for the book.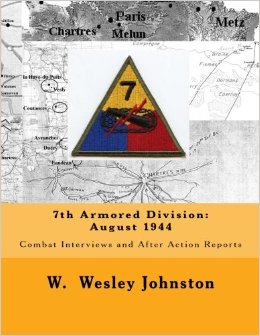 7th Armored Division: August 1944 (153 pages, 1 original map and 9 new maps; introduced, transcribed, annotated and fully indexed; staple-bound 8 1/2" x 11" pages with no cover $50). The following documents are included:
Records Contained in I&H Combat Interviews Folder CI-285

7th Armd Div - Title and Contents Pages - covering the period from 44-Aug-01 to 44-Aug-31 (2 pages)
7th Armd Div HQ - After Action Report Title Page and Cover Letter by Capt. Nils Jacobson - covering the period from 44-Aug-10 to 44-Aug-31 (2 pages)
7th Armd Div HQ - After Action Report by Sgt. Ludden - version 1 - covering the period from 44-Aug-10 to 44-Aug-31 (12 pages)
7th Armd Div HQ - After Action Report by Sgt. Ludden - version 2 - covering the period from 44-Aug-10 to 44-Aug-31 (13 pages)
7th Armd Div (All Units) - List of Elements and Cos - covering the period from 44-Aug-31 to 44-Aug-31 (1 page)
31st Tank Bn - Maj. William F. Beatty, Ex O; Lt. Gardner, 2/B/31; 1st Lt. Carey, C/31; Sgt. Ettinger, C/31; Lt. Murname, HQ Co/31; Sgt. Hill, B/31; Sgt. Diediker, B/31; Sgt. Horworth, C/31; Sgt. Gazdak, HQ Co/31; S/Sgt. Hubert L. Allen, B/33rd Engr; Capt. Morris M. Hochberg, B/33 - covering the period from 44-Aug-15 to 44-Aug-17 (6 pages, 1 map)
17th Tank Bn - Combat History - Part 2 - covering the period from 44-Aug-20 to 44-Aug-31 (8 pages)
7th Armd Div Arty, HQ & HQ Btry - Lt. Swan, with advice of Sgt. Ludden - covering the period from 44-Aug-07 to 44-Aug-31 (7 pages)
7th Armd Div Arty - Battle of Chartres (Annex B) - covering the period from 44-Aug-15 to 44-Aug-18 (2 pages)
7th Armd Div MP Platoon - History Report - covering the period from 44-Aug-01 to 44-Aug-31 (4 pages)
7th Armd Div Trains HQ Co - History Report - covering the period from 44-Aug-01 to 44-Aug-31 (4 pages)
7th Armd Div Trains - Additional Summary by Maj. J. D. Bryant, S-2 - covering the period from 44-Aug-01 to 44-Aug-31 (1 page)

After Action Reports from Unit Files & Other Sources

38th Armored Infantry Battalion - Unit History - covering the period from 44-Aug-01 to 44-Aug-31 (2 pages)
40th Tank Battalion - History Report - covering the period from 44-Aug-01 to 44-Aug-31 (12 pages)
Combat Command "R" - History Report by Maj. Frank C. Lauer, Jr., S-3, for Lt. Col. James W. Newberry, CO - covering the period from 44-Aug-07 to 44-Aug-20 (2 pages)
434th Armored Field - Post-War "Record of Operations" - covering the period from 44-Aug-03 to 44-Aug-31 (2 pages)
7th Armd Div HQ & HQ Company - Lt. Col. Alvin L. Mente, Jr., Assistant Chief of Staff, G-3 - covering the period from 44-Aug-10 to 44-Aug-31 (6 pages)
17th Tank Bn - Combat History - Part 1 - covering the period from 44-Aug-11 to 44-Aug-20 (5 pages)
---
Links to Other Related Records That I Have Transcribed, Indexed, and Published
---
Ranked Summary of Index Entries
(Ranked by Extent/Importance of Coverage)
Individuals Referenced - rated from 1 (passing mention) to 5 (extensive important references)
ADAMS, Lt. Col. Andrew J. (CO Div Trains) - 1
ADAMS, Pvt. Gayther O. (C/38) - 1
ALLEN, S/Sgt. Hubert J. (B/33) - 1
ALLISON, Lt. Col. Leslie (CO 23rd AIB) - 4
ALLISON, Task Force - 5
ANNIBALLI, Pfc. Antonio J. (440 AFAB) - 2
BARTH, Chaplain (7AD) - 1
BEARD, Pfc. Bernell J. (B/38) - 2
BEATY, Maj. William F. (XO 31st Tank Bn) - 3
BOYLAN, Lt. Col. Vincent L. (CO 87th Rcn Sqdn) - 2
BROWN, Maj. John C. (XO 40th Tank Bn) - 3
BROWN, Task Force - 3
CAREY, 1st. Lt. (CO of C/31) - 2
CARPENTER, Lt. (CO Plat/A/17) - 2
CARRITHERS, Pfc. Smith Garrow (A/38) - 2
CHAPPUIS, Lt. Col. Richard D. (CO 48th AIB) - 2
CLINTON, T/5 Edward J. (Rcn/HQ Co/40) - 2
COOLEY, Capt, David (Asst G-1/7AD) - 2
CROCE, Pvt. Angelo (A/38) - 2
DAILEY, Maj. Thomas W. (XO 17th Tank Bn) - 3
DAILEY, Task Force - 3
DALLEY, Sgt. Walter F. (C/31) - 2
DE CARLO, T/5 (Med/17) - 2
DELANEY, Pvt. John F. (440 AFAB) - 2
DILDINE, Pfc. Ned Nolan (A/38) - 2
DUBUISSON, Lt. Col. James G. (CO 434th AFAB) - 2
ERLENBUSCH, Lt. Col. Robert C. (CO 31st Tank Bn) - 4
ERLENBUSCH, Task Force - 5
ETTINGER, Sgt. (C/31) - 2
FRAELICH, Cpl. Parke W. (C/17) - 2
GANFIELD, 2nd Lt. John R. (D/17) - 2
GARDNER, Clifford L. (31st Tank) - 2
GARDNER, Lt. (CO 2/B/31) - 2
GAZDAK, Sgt. (Mortar/HQ Co/31) - 2
GEIGER, 1st Lt. Mack (CO B/38) - 2
GEORGE, Capt. Jacob A., Jr. (CO C/17) - 2
GILBERT, Pvt. Edward T. (Med/38) - 2
HARDIN, Pvt. (B/17) - 2
HART, Lt. Col. Norman E. (CO 440th AFAB) - 1
HENSLEY, S/Sgt. Winfred V. (D/31) - 2
HICKEY, Capt. (CO 147th Armd Signal Co) - 1
HILL, Sgt. (B/31) - 2
HOCHBERG, Capt. Morris M. (CO B/33) - 3
HODGSON, Lt. Col. Reginald H. (7AD G-4) - 1
HOGAN, 2nd Lt. George K. (A/40) - 3
HOGAN, Pvt. (B/17) - 2
HORWATH, S/Sgt. Thomas (31st Tank) - 2
HOWISON, Capt. Jack (Historian/17th) - 1
HOWORTH, Sgt. (C/31) - 2
HUBBARD, Pvt. Walter L. (C/31) - 2
HUGHES, Lt. Col. (CO 129th Armd Ord Maint Bn) - 1
IRWIN, Lt. Col. Samuel L. (CO 38th AIB) - 2
JACOBSON, Capt. Nils S. (7AD Historical Officer) - 1
JESS, Sgt. Harmon T. (B/31) - 2
KARPENSKI, Lt. Col. Stephen J. (CO 77th Armd Med Bn) - 1
KEELER, Lt. Col. Edmund L. (CO 38th AIB) - 3
KEELER, Task Force - 4
KELTNER, Lt. Col. Clyde A. (CO 33rd Armd Engr Bn) - 1
KING, Lt. Col. Theo T. (CCR) - 2
KING, Task Force - 3
KLASSEN, Pfc. Francis A. (A/38) - 2
LA COMBE, Pvt. Bert (B/31) - 2
LAUER, Maj. Frank C., Jr. (S-3 CCR) - 2
LEMKE, Pvt. Henry George (Rcn/HQ Co/40) - 2
LOETZ, Pfc. Louis W. (A/38) - 2
LUDDEN, Sgt. (3rd HIS) - 1
MAJKA, Cpl. Theodore S. (B/31) - 2
MARTIN, Col. Orville W. (CO Div Arty) - 2
MAXWELL, Lt. Col. John V. (7AD G-1) - 1
McCLARY, Pfc. Floyyd E. (B/38) - 2
McCONNELL, Lt. Col. Edward T. (CO 40th Tank Bn) - 5
McCONNELL, Task Force - 5
MEADE, S/Sgt. Johnnie A. (B/31) - 2
MENTE, Lt. Col. Alvin L, Jr. (7AD G-3 & Asst C of S) - 2
MIESNER, Sgt. Norman R. (D/31) - 2
MILNER, Lt. Col. James W. (CO 489th AFAB) - 1
MOISE, Capt. Edwin William, Jr. (CO B/38) - 3
MOLONY, Col. George H. (7AD C of S) - 3
MORDO, Pfc. John L. (40th Tank) - 2
MURNAME, Lt. (CO Mortar/HQ Co/31) - 2
MURRAY, Lt. Col. Everett W. (7AD G-2) - 1
NEIL, Capt. (CO D/17) - 2
NEWBERRY, Lt. Col. James E. (CO CCR) - 2
NIXON, Sgt. Edward F. (A/17) - 2
O'BRYANT, Maj. J. D. (S-2, Div Trains) - 1
OLIVER, Capt. Willie W. (CO C/31) - 2
PALLANT, T/4 (D/17) - 2
PARTHEMORE, Cpl. Harry H. (C/31) - 2
PATTON, Lt. Gen. George S., Jr. (CG Third Army) - 1
PEDERSON, Sgt. (A/17) - 2
PIER, Capt. (CO A/31) - 2
PILOT, Capt. (CO B/17) - 2
POLAVICH, Sgt. (B/17) - 2
RAINICK - 2
RAJNIK, Pvt. John (A/38) - 2
RANKIN, Maj. Curtice H. (XO, acting CO 38th AIB) - 3
RANKIN, Task Force - 4
RETORT, Pvt. Harry H. (C/38) - 2
ROSEBAUM, Col. Dwight A. (CO CCA) - 3
SEYMOUR, S/Sgt. (A/17) - 2
SHERMAN, Pfc. Horace (B/38) - 2
SHILKROUT, Lt. (C/17) - 2
SILVESTER, Maj. Gen. Lindsay McDonald (CG 7AD) - 4
SLAVIK, T/5 Andrew J. (C/38) - 2
SMITH, Pfc. Alan H. (B/38) - 2
STEINLANDER, Pfc. Nickles (B/31) - 2
SWAN, Lt. (Div Arty) - 1
SWANSON, Pfc. Edward Albert (C/38) - 2
SWEAT, Maj. Fred C. (Asst C of S, G-3, 7AD) - 1
THOMPSON, Brig. Gen. John B. (CG CCB) - 4
THOMSON, Maj. Rex (7AD Civil Affairs Officer) - 2
TRUE, Pvt. (D/17) - 2
VAUGHAN, Cpl. (Clerk/HQ Btry/Div Arty) - 1
VITEZ, T/4 William V. (A/40) - 3
WALKER, Maj. Gen. Walton H. (CG XX Corps) - 3
WARD, T/5 Vivian L. (Bn HQ/38) - 2
WARM, Pvt. (B/17) - 2
WEISSENBERGER, 2nd Lt. Walter H. G. (CO Plat/A/38) - 2
WEMPLE, Lt. Col. John C. (CO 17th Tank Bn) - 4
WEMPLE, Task Force - 4
WHEELER, Lt. (Med/17) - 2
WILLOUGHBY, Sgt. Mitchell (B/17) - 2
WUELLNER, Sgt. (B/17) - 2
Units Referenced - rated from 1 (passing mention) to 5 (extensive important references)
7th Armored Division organic and long-term attached units

17th Tank Battalion - 5
23rd Armored Infantry Battalion - 5
31st Tank Battalion - 5
33rd Armored Engineer Battalion - 5
38th Armored Infantry Battalion - 5
40th Tank Battalion - 5
48th Armored Infantry Battalion - 4
77th Armored Medical Battalion - 2
87th Cavalry Reconnaissance Squadron (Mechanized) - 4
129th Armored Ordnance - 2
147th Armored Signal Company - 2
434th Armored Field Artillery - 5
440th Armored Field Artillery - 4
489th Armored Field Artillery - 4
814th Tank Destroyer Battalion - 4
CCA (Combat Command A) - 5
CCB (Combat Command B) - 5
CCR (Combat Command Reserve) - 5
7th Armored Division Headquarters - 5
7th Armored Division Artillery - 5
7th Armored Division Military Police Platoon - 5
7th Armored Division Quartermaster - 1
7th Armored Division Task Forces - 5
7th Armored Division Trains - 5
ALSO -- 7AD Field Orders - 4

Other U. S. units, some attached to 7th Armored Division

First (U. S.) Army - 1
Third (U. S.) Army - 4
3rd Information and Historical - 1
5th Armored Division - 2
5th Field Artillery Group - 5
5th Infantry Division - 4
VII Corps (First U.S. Army) - 2
XV Corps (Third U.S. Army) - 2
XX Corps (Third U.S. Army) - 5
79th Infantry Division - 1
80th Infantry Division - 2
90th Infantry Division - 1
135th Engineer Combat Battalion - 2
177th Field Artillery Battalion - 4
179th Engineer Combat Battalion - 4
193rd Field Artillery Group - 3
195th Field Artillery Group - 2
274th Armored Field Artillery Battalion - 3
443rd Field Artillery Battalion - 2
558th Field Artillery Battalion - 3
695th Armored Field Artillery Battalion - 3
733rd Field Artillery Battalion - 3
736th Field Artillery Battalion - 3
943rd Field Artillery Battalion - 3
949th Field Artillery Battalion - 3

French

FFI (French Forces of the Interior) - 2

German Units

9th Panzer Division (German) - 1
17th Air Force Division (German) - 1
48th Infantry Division (German) - 1
Locations Referenced - rated from 1 (passing mention) to 5 (extensive important references)
APOs

Number 257 (7th Armored Division) - 1
Number340 (XX Corps) - 1

ENGLAND

Marshalling Area - 3
Tidworth Barracks (VU6869) - 3
Southampton - 2
Tidworth - 2
Tidworth Hospital - 2
Hampshire - 1
Portland - 1
Portsmouth - 1
Weymouth - 1

FRANCE

Rated 5 - Extensive Important References

Aisne River - 5
Chartres - 5
Château-Thierry - 5
Dreux - 5
La Ferté-Bernard - 5
Marne River - 5
Melun - 5
Meuse River - 5
Reims - 5
Seine River - 5
Tilly - 5
Verdun - 5

Rated 4 - Numerous Important References

Argonne Forest - 4
Courville-sur-Eure - 4
Épernay - 4
Maintenon - 4
Nangis - 4
Omaha Beach - 4
Provins - 4

Rated 3 - Important References

Arpajon - 3
Beine-Nauroy - 3
Berry-au-Bac - 3
Bonville - 3
Brienne-sur-Aisne - 3
Dormans - 3
Dourdan - 3
Epernon - 3
Fismes - 3
Fontainebleau - 3
La Haye-du-Puits - 3
La Loupe - 3
Louvigné-du-Désert - 3
Lucé - 3
Luisant - 3
Neufchâtel-sur-Aisne - 3
Pontavert - 3
Ponthierry - 3
Pontporcien - 3
Port-à-Binson - 3
Rambouillet - 3
Seine-Port - 3
Senonches - 3
Sézanne - 3
Ste. Suzanne (Laval-Le Mans) - 3
Vesly (T2030) - 3
Villers-sur-Meuse - 3
Warmeriville - 3

Rated 2 - Useful Minor References

Auvernaux - 2
Ballancourt-sur-Essonne - 2
Bouch-le-Repos (Bouchy-St.-Genest) - 2
Brétigny - 2
Châteauneuf-en-Thymerais - 2
Châtillon-la-Borde - 2
Chauffour (by Dourdan) - 2
Corbeil - 2
Courtry - 2
Donnemarie - 2
Falaise - 2
Forts (Brimont-Reims; De Choune-Verdun) - 2
Fougères - 2
Jouy-la-Châtel - 2
La Butte - 2
La Chapelle-Gauthier - 2
La Ferté Alais - 2
La Ferté-Gaucher - 2
Le Boullay-Mivoye - 2
Le Plessis-aux-Tournelles - 2
Les Essarts-le-Vicomte - 2
Maison-Rouge (Nangis-Provins) - 2
Mantes - 2
Mardeuil - 2
Mittainville - 2
Nogent-le-Roi - 2
Nogent-le-Rotrou - 2
Perthes (by Melun) - 2
Pontfaverger-Moronvilliers - 2
Sees - 2
Soisy-sur-Ecole ( by Melun) - 2
St. Etienne-à-Armes - 2
St. Genest - 2
St. Georges-sur-Eure - 2
St. Germain-le-Gaillard - 2
Thiron-Gardais - 2
Tréon - 2
Utah Beach - 2
Vert-St. Denis (N of Melun) - 2
Vesle River - 2
Villenauxe-la-Grande - 2
Zone 1 Red - 2
Zone of Communication - 2

Rated 1 - Passing References

Ablis - 1
Alincourt - 1
Allemant - 1
Ardeuil - 1
Argentan - 1
Aulnizeux - 1
Aure - 1
Authont - 1
Autry - 1
Auxonette - 1
Avançon - 1
Avocourt - 1
Avranches - 1
Bannes - 1
Barbonne-Fayel - 1
Baslieux-s/s-Châtillon - 1
Baye - 1
Beaumont-les-Autels - 1
Bellême - 1
Bellou-sur-Huisne - 1
Bétheniville - 1
Binarville - 1
Blainville - 1
Bois de Ste. Assise - 1
Boissise-la-Bertrand - 1
Boissy-le-Cutté - 1
Bondeufle - 1
Boôlot - 1
Bouglainval - 1
Boursault - 1
Brasseaux - 1
Broussy-le-Grand - 1
Cély - 1
Cerny - 1
Cesson - 1
Champaubert - 1
Champeray - 1
Chartrettes - 1
Chaumuzy - 1
Chenneviers - 1
Cherbourg Peninsula - 1
Chérisy - 1
Cillery (By Reims) - 1
Clairefontaine-en-Yvelines - 1
Coligny - 1
Cormes - 1
Cotentin Peninsula - 1
Courgenard - 1
Coutances - 1
Damery - 1
Digney - 1
Ducey - 1
Ecrosnes - 1
Epoye - 1
Ernée - 1
Etampes - 1
Etréchy - 1
Eure River - 1
Evron - 1
Faverolles - 1
Fleury-la-Rivière - 1
Flonville - 1
Fontaine-Aubert - 1
Fontaine-Simon - 1
Fontenailles - 1
Fontenay-le-Vicomte (W Melun) - 1
Fontenay-sur-Eure - 1
Fruncé - 1
Gallardon - 1
Gas - 1
Gazeran - 1
Grainville (303 927) - 1
Hanches - 1
Haute-du-Nord - 1
Hauviné - 1
Héricy - 1
Illiers - 1
Juniville - 1
La Chausée - 1
La Ferrette - 1
La Madeleine-Bouvet - 1
La Neuville-aux-Larris - 1
La Neuville-en Tourne-à-Fuy - 1
La Tannière - 1
La Taye - 1
La Varenne - 1
Landéan - 1
Laons - 1
Laval - 1
Le Bouissonnet - 1
Le Châtellier - 1
Le Coudray - 1
Le Ferre - 1
Le Mans - 1
Le Mesnil-sur-Oger - 1
Le Peage - 1
Le Val-St. Germain - 1
Le Verger - 1
Les Etréchy - 1
Limours - 1
Mailly-Champagne - 1
Marchais - 1
Marcilly-sur-Seine - 1
Marolles - 1
Marville-Moutiers-Brûlé - 1
Massiges - 1
Mery-sur-Seine - 1
Montflix - 1
Monthelon - 1
Montmirail - 1
Montmirault - 1
Montmort - 1
Morancez - 1
Moronvilliers - 1
Mortery - 1
Moussy - 1
Nandy - 1
Nanteuil-la-Forêt - 1
Nauroy - 1
Neuflize - 1
Ollainville - 1
Orgenoy - 1
Orphin - 1
Paris - 1
Périers - 1
Perthes (by Reims) - 1
Pierry - 1
Pourc - 1
Prunay (4773) - 1
Ramponneau - 1
Rilly-la-Montagne - 1
Rouilly - 1
Rozay-en-Brie - 1
Samoreau - 1
Saudoy - 1
Savigny-le-Temple - 1
Séchault - 1
Serazereux - 1
Sermiers - 1
Soizy-aux-Bois (by Sézanne) - 1
Sommepy-Tahure - 1
Souain-Perthes-lès-Hurlus - 1
St. Arnoult-en-Yvelines - 1
St. Cheron-des-Champs - 1
St. Cosme-en-Vairais - 1
St. Denis-des-Puits - 1
St. Ellier-du-Maine - 1
St. Hilliers - 1
St. Luperce - 1
St. Martin-d'Ablois - 1
St. Martin-des-Champs - 1
St. Martin-l'Hereux - 1
St. Masmes - 1
St. Pierre - 1
St. Pierre-sur-Orthe - 1
St. Prix - 1
St. Sauveur-sur-Ecole - 1
St. Souplet-à-Ply - 1
St. Symphorien-le-Château - 1
Ste. Marie-à-Ply - 1
Suippe River - 1
Tagnon - 1
Thierville-sur-Meuse - 1
Thuisy - 1
Tille (near Le Mans?) - 1
Tremblay-le-Vicomte - 1
Vaiges - 1
Varennes-en-Argonne - 1
Vaucinennes - 1
Vaudancourt - 1
Vert-le Grand (W of Melun) - 1
Vertus - 1
Verzy - 1
Vienne-la-Ville - 1
Village-du-Nord - 1
Villeconin - 1
Villemeux-sur-Eure - 1
Villeneuve-sur-Auvers - 1
Ville-sur-Tourbe - 1
Villier (by Louvigné) - 1
Villiers-en-Bière - 1
Visley - 1
Voisenon - 1
Vosves - 1
Vulaines-lès-Provins - 1
Vulaines-sur-Seine - 1

GERMANY - 1
Miscellaneous References - rated from 1 (passing mention) to 5 (extensive important references)
Rated 5 - Extensive Important References
Rated 4 - Numerous Important References

Anti-tank fire/guns (Enemy) - 4
Artillery (Enemy) - 4
Land Mines (Enemy) - 4
Machine Gun (Enemy) - 4
Mortar (Enemy) - 4
Prisoners (Captured by U.S.) (Enemy) - 4
Resistance (Enemy) - 4
Sniper (Enemy) - 4
Tank (Enemy) - 4

Rated 3 - Important References

Civilians - 3
Defenses (Enemy) - 3
Demolitions (Enemy) - 3
Friendly Fire - 3
Fuel shortage - 3
Headquarters (Enemy) - 3
Landing Craft - 3
Liberty Ship - 3
Melun Civilians - 3
Plane (Enemy) - 3

Rated 2 - Useful Minor References

Air Corps (U.S.) - 2
American Red Cross - 2
Beatle Tank (unmanned) (Enemy) - 2
Bombs (Enemy) - 2
Car (Enemy) - 2
Casualties (Enemy) - 2
Column (Enemy) - 2
Convoy of Ships - 2
Depot (Enemy) - 2
Flare (Enemy) - 2
Forward Observer (Enemy) - 2
French Souma Tank (Enemy) - 2
Garrison (Enemy) - 2
Half-track (Enemy) - 2
Horse-Drawn Equipment (Enemy) - 2
Officers (Enemy) - 2
Pilot (Enemy) - 2
Ponthierry Civilians - 2
Rear Guard (Enemy) - 2
Reims Civilians - 2
Reinforcements (Enemy) - 2
Road Block (Enemy) - 2
School (Enemy) - 2
Seine-Port Civilians - 2
Ships - 2
Souma Tank (French, used by Enemy) - 2
Tank - Beatle (unmanned) (Enemy) - 2
Tank - French Souma (Enemy) - 2
Verdun Civilians - 2

Rated 1 - Passing References

Anti-aircraft Training School (Enemy) - 1
Camouflage (Enemy) - 1
Collecting Center (Enemy) - 1
Ship Crew - 1
Field Gun (Enemy) - 1
Grenade (Enemy) - 1
Motorcycle (Enemy) - 1
Panzerfaust (Bazooka) (Enemy) - 1
Personnel Carrier (Enemy) - 1
Police Unit (Enemy) - 1
Retreat (Enemy) - 1
Straggler (Enemy) - 1
Tank - Tiger (Enemy) - 1
Tank Destroyer (Enemy) - 1
Truck (Enemy) - 1
Vehicles (unspecified) (Enemy) - 1
---
Click here for information about contacting me.
Copyright © 2014 by Wesley Johnston
All rights reserved
---
Combat Interview Main Page | 7AD Interview Main Page | Aug 44 | Sep 44 | Oct-Nov 44 | Dec 44 | Jan 45 | Mar 45 | Apr 45
7th Armored Division Association Home Page
Click here for an active overview of all pages at the 7th Armored Division web site