Dedication of the Ransdaal, Netherlands
Memorial Plaque for Richard Knott
Nov 27, 2008
Bookmark this page as http://www.7thArmdDiv.org/ransdaal-dedication.htm
Last updated: November 9, 2009 - What's New?
Stuck in someone's frames? Click here to break out.

---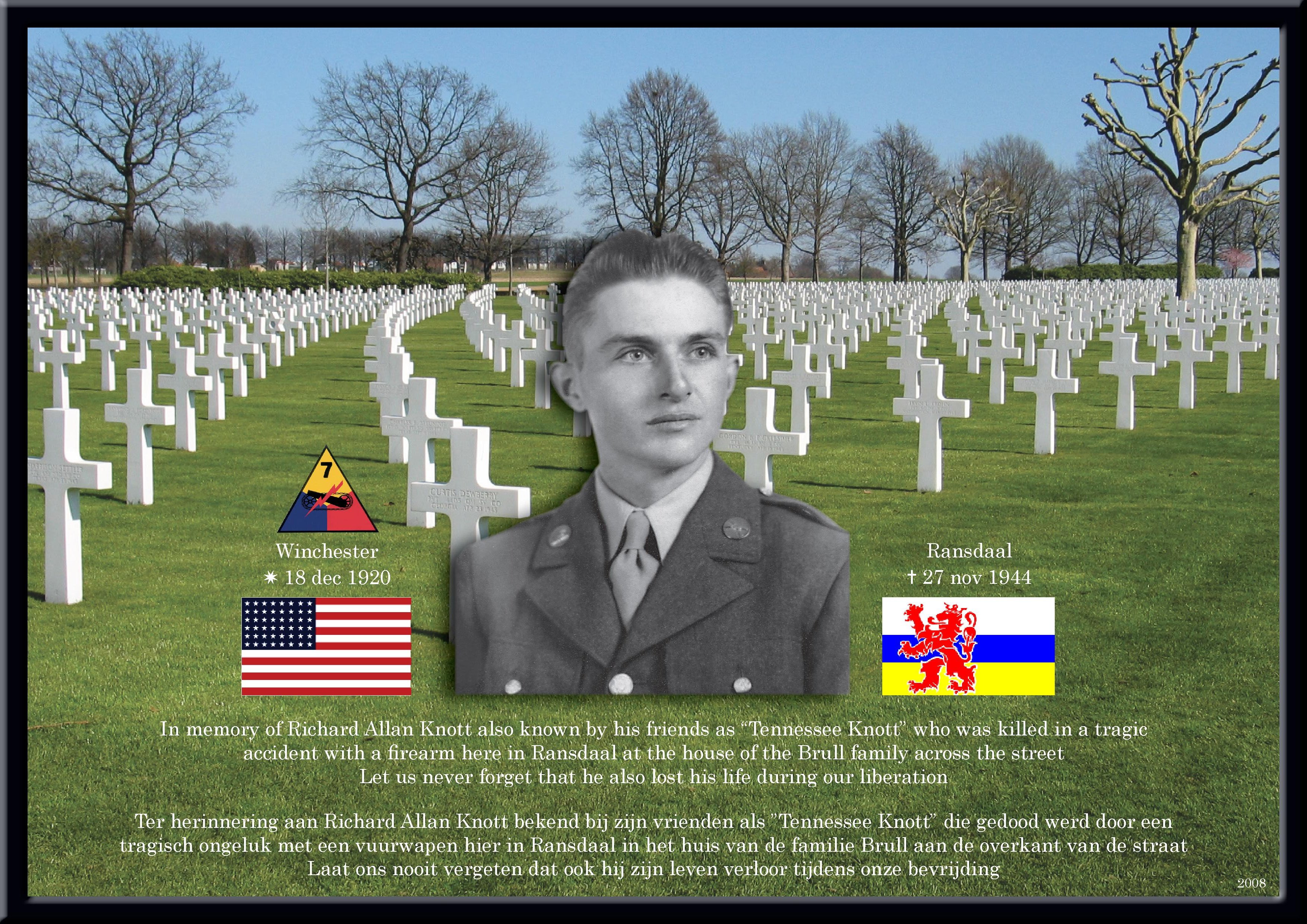 ---
The committee of Dutch citizens that created and erected the memorial plaque was:
Niek Hendrix from Ospel
Lando Mulleneers from Cadier en Keer
Jurgen Mingels from Cadier en Keer
The ceremony was held November 27, 2008, on the 65th anniversary of the death of Richard Knott on November 27, 1944. Committee chairman Niek Hendrix unveiled the large photograph of Richard Knott. The United States 7th Armored Division was represented by Marvin Moser, veteran of the 814th Tank Destroyer Battalion, who attended the ceremonies with his granddaughter Emily. Marvin Moser unveiled the memorial plaque. Richard Knott was killed accidentally in the house of the Brull family. The Brull family, who still reside in Ransdaal but at a different home, was represented by Hubert Brull.
Dutch citizen Ben Savelkoul has created an excellent Dutch language web page about the ceremonies. For an English translation via Google, click here. (The translation translates the Brull family name as "roar" -- so read BRULL when you see "roar".)
---
Click here for information about contacting me.
Copyright © 2009 by Wesley Johnston
All rights reserved
7th Armored Division Web Site Main Page
Active overview of all pages at the 7th Armored Division web site