Echarcon, France Monument to
U. S. 7th Armored Division Members
KIA - Pvt. Delbert J. Longworth
SWA - Pfc. George R. Burhance
LWA - 2d Lt. Woodrow H. McCormack

---
This page was begun August 24, 2010, two days after the 66th anniversary of the event.

---
Bookmark this page as http://www.7thArmdDiv.org/mon-echarcon.htm
Last updated: May 8, 2013 - What's New?
Stuck in someone's frames? Click here to break out.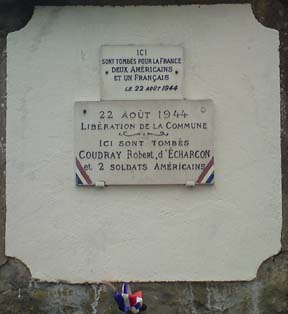 Ici sont tombés deux Américains et un Français le 22 Août 1944
22 Août 1944 Libération de la Commune - Ici sont tombés COUDRAY, Robert d' ÉCHARCON et deux soldats Amérians
Here fell two Americans and one French 22 August 1944
22 August 1944 Liberation of the Community - Here fell Robert COUDRAY and two American soldiers
(photo thanks to Nicholas Charpentier)
Click on photo for larger image.
Identifying the Americans
The obvious question of the plaque is: who were the two Americans. This web page lays out the research by which I was able to identify them. There were in fact three Americans present, one of whom was killed. One of the others was seriously wounded, and the people probably assumed that he had died, but he recovered from his wounds.
8 May 2013 Ceremony for New Plaque - Link to a separate web page
---
1. Who Were the American Soldiers, and What Happened?
On August 22, 1944, 7th Armored Division Combat Command A (CCA) on the north and Combat Command R (CCR) on the southern route made their final move to the Seine River southeast of Paris at Melun. 40th Tank Battalion was in the CCA column, and a reconnaissance jeep from Headquarters Company of 40th Tank Battalion was seeking places to cross the Essone River north of Ballancourt. The three man scouting team consisted of 2d Lt. Woodrow H. McCormack, the jeep driver Pfc. George R. Burhance, and scout Pvt. Delbert J. Longworth.


Pvt. Delbert J. Longworth of Sleepy Eye, Minnesota
Click on photo for larger image.
As they went through the town of Echarcon, resident Robert Coudray and one other French citizen joined them in the jeep, in order to guide them to the bridge over the Essone. As they approached the bridge, they had to drive the jeep carefully around mines in the road. Once they were seen by the Germans defending the bridge, the Germans began firing at them with machine guns. The jeep driver turned the jeep around and tried to rapidly drive back along the road to get away from the Germans. However, he hit one of the mines.
Robert Coudray was killed, as was Pvt. Longworth. The driver, Pfc. Burhance was seriously wounded, which meant that his wounds were considered life-threatening. Clearly the French believed that the wounds were so serious that he must have died, since they made the plaque to honor two Americans who were killed. But in fact, George Burhance recovered from his wounds and even returned to duty with B/40 on 29 November. 2d Lt. McCormack was lightly wounded, which meant that his wounds were not considered to be life-threatening. He recovered much more quickly and returned to duty with B/40 on 3 September.
---
2. Details of the Research
Rather than attempt to convert the document with the research steps and information into a web page, I have chosen to leave it as a Word document. So click here to see the document.
---
Click here for information about contacting me.
Copyright © 2010 by Wesley Johnston
All rights reserved
7th Armored Division Web Site Main Page
Active overview of all pages at the 7th Armored Division web site