U. S. 7th Armored Division
Pre-Combat Deaths in World War II
Bookmark this page as http://www.7thArmdDiv.org/7adeathst.htm
Last updated: May 6, 2013 - What's New?

Spare a minute
to think
of the young who didn't grow up,
and how young they looked when they died,
and how no one will ever remember them looking tired and middle-aged
or even be bored by tiresome recitals of the time of their youth.


- - - - Russell Baker "How to Observe Dec. 7" (NY Times, Dec. 1965)
---
---
This is an alphabetical list of all 53 men of the 7th Armored Division and one man from the later-attached 203rd Anti-Aircraft Artillery Battalion who died during training in the United States and in England, in 1942-1944, prior to entering combat in World War II.

Click here for the separate web page to remember the 7th Armored Division men who died overseas, in battle and non-battle deaths in 1944 and 1945.
Click here for the separate web to see which 7th Armored Division men died where in overseas combat.
---
If you see an error or omission, please contact me (wwjohnston@aol.com). I cannot fix the errors unless I know about them; so please let me know.
So they will not be "Forgot" a

There is a word
Which bears a sword
It hurls its barbed syllables,-
At once is mute again.
But where it fell
The saved will tell
On patriotic day,
Some epauletted brother
Gave his breath away.

Wherever runs the breathless sun,
Wherever roams the day,
There is its noiseless onset,
There is its victory!
Behold the keenest marksman!
The most accomplished shot!
Time's sublimest target
Is a soul "forgot"!
----- Emily Dickinson
---
A Note for the Children of these Men


The American World War II Orphans Network (AWON) is an organization created by and for those who lost their father in World War II. AWON has an annual conference and a newsletter filled with useful information. Click here to go to the AWON web page and find those who share your experience.
---
Prior to September 20, 1943, the units shown are those of the original structure of the 7th Armored Division. General Order #36 (20 Sep 1943) reorganized the Division. The full text of the General Order can be seen on the 7th Armored Division Document Repository web site. The following diagram shows how GO #36 changed the organization of the Division.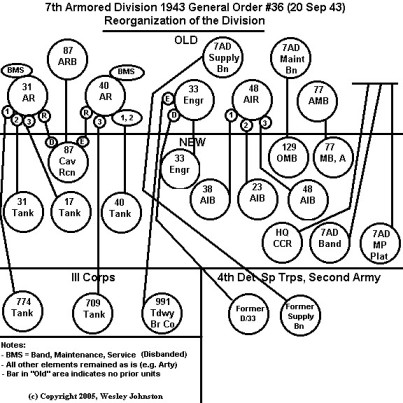 Note that the following units of the old organization ceased to be a part of the 7th Armored Division after the reorganization:
Supply Battalion
Company "D", 33rd Armored Engineer Battalion
Company "E", 33rd Armored Engineer Battalion (became 991st Treadway Bridge Company)
1st Battalion, 31st Armored Regiment (became 774th Tank Battalion)
3rd Battalion, 40th Armored Regiment (became 709th Tank Battalion)
The following are links to the pages of deaths of the indicated final-organization units of the Division: ...
---
7th Armored Division Pre-Combat Training Deaths in World War II
---
A B C D E F G H I J K L M N O P Q R S T U V W X Y Z
---
Adams, Pfc. Elwood (35265926) - Regiment/Battalion: 31 - Company/Battery/Troop: Maint

Died: May 17, 1943 - location unknown
General Order #16 dated May 18, 1943 at APO #257, c/o Postmaster, Los Angeles, CA
Home - State: KY - County/City: (Lawrence County, KY)
Buried at: Harmon Cemetery; Louisa, KY
Click here to see grave on FindAGrave.

Adamson, Pvt. William G. (36502512) - Regiment/Battalion: 434 - Company/Battery/Troop: HQ Btry

Died: August 28, 1942 - Station Hospital; Camp Polk, LA
General Order #45 dated August 28, 1942 at Camp Polk, LA
Home - State: MI - County/City: Detroit, MI
Buried at: Woodmere Cemetery; Detroit, MI
Click here to see grave on FindAGrave.

Boughey, Pfc. Donley G. (36153846) - Regiment/Battalion: 87 - Company/Battery/Troop: B

Died: April 21, 1944 - State Hospital; Ft. Thomas, KY
General Order #19 dated April 21, 1944 at Fort Benning, GA
Home - State: MI - County/City: Traverse City, MI
Buried at: private cemetery; Traverse City, MI

Briceno, Tec 5 Epifanio (18102967) - Regiment/Battalion: 434 - Company/Battery/Troop: Svc

Died: December 5, 1942 - location unknown
General Order #60 dated December 7, 1942 at North Camp Polk, LA
Home - State: TX - County/City: (Brewster County, TX)
Buried at: unknown

Bruno, M/Sgt. John M. (33172518) - Regiment/Battalion: 33 - Company/Battery/Troop: Hq

Died: June 30, 1943 - location unknown
General Order #25 dated June 30, 1943 at APO #257, c/o Postmaster, Los Angeles, CA
Home - State: PA - County/City: (Lehigh County, PA)
Buried at: unknown

Butterbaugh, Pfc. William Owen (13067365) - Regiment/Battalion: 48 - Company/Battery/Troop: F

Died: August 31, 1943 - Guarding POW Camp at Ft Benning, GA
General Order #33 dated August 31, 1943 at Fort Benning, GA
Home - State: PA - County/City: Gallitzin Township; Cambria County, PA
Buried at: Amsbry Union Cemetery; Gallitzin Township; Cambria County, PA
Age 29y 6m 7d
Killed when a machine gun was discharged accidently while he was serving as a guard at a tempory POW camp.
Click here to see FindAGrave page.

Cantelmi, Tec 5 Frederick A. (33139781) - Regiment/Battalion: 33 - Company/Battery/Troop: E

Died: September 18, 1943 - location unknown
General Order #35 dated September 18, 1943 at Fort Benning, GA
Home - State: PA - County/City: (Philadelphia County, PA)
Buried at: unknown

Carmouche, Lt. Col. George H. (O-14 981) - Regiment/Battalion: Div - Company/Battery/Troop: G-4

Died: date unknown - location unknown
General Order #41 dated August 16, 1942 at Camp Polk, LA
Home - State: LA - County/City: (Assumption Parish, LA)
Buried at: unknown

Cathman, Tec 5 Jerome S. (36234864) - Regiment/Battalion: 48 - Company/Battery/Troop: I

Died: October 28, 1942 - location unknown
General Order #54 dated October 29, 1942 at 1-1/2 Miles East of De Quincy, LA
Home - State: WI - County/City: (Grant County, WI)
Buried at: unknown

Davis, Tec 5 Philip D. (33169917) - Regiment/Battalion: Maint - Company/Battery/Troop: C

Died: July 8, 1943 - location unknown
General Order #26 dated July 13, 1943 at APO #257, c/o Postmaster, Los Angeles, CA
Home - State: PA - County/City: (York County, PA)
Buried at: unknown

Dery, Cpl. Gerard O. (11063215) - Regiment/Battalion: 40 - Company/Battery/Troop: B

Died: February 1, 1944 - location unknown
General Order #5 dated February 2, 1944 at Fort Benning, GA
Home - State: RI - County/City: (Providence County, RI)
Buried at: unknown

Disharoon, Lt. Col. Hugh B. (O-24 294) - Regiment/Battalion: Surg - Company/Battery/Troop: unknown

Died: August 22, 1943 - location unknown
General Order #31 dated August 22, 1943 at Fort Benning, GA
Home - State: TN and AL - County/City: (Marshall County, TN) and Shawmut, AL
Buried at: unknown

Frye, Pvt. Vernon R. (14009802) - Regiment/Battalion: 434 - Company/Battery/Troop: Svc

Died: August 5, 1942 - location unknown
General Order #37 dated August 6, 1942 at Camp Polk, LA
Home - State: NC - County/City: (Moore County, NC)
Buried at: Summer Hill Baptist Cemetery; Carthage, NC
Click here to see grave on FindAGrave.

Garcille, Pvt. Freddie (38171375) - Regiment/Battalion: Maint - Company/Battery/Troop: C

Died: October 7, 1942 - location unknown
General Order #52 dated October 8, 1942 at 2 miles west of Zimmerman, LA
Home - State: LA - County/City: (Allen Parish, LA)
Buried at: Oberlin Cemetery; Oberlin, LA

Gennaro, Tec 5 Charles C. (32209880) - Regiment/Battalion: 440 - Company/Battery/Troop: A

Died: March 6, 1944 - location unknown
General Order #11 dated March 6, 1944 at Fort Benning, GA
Home - State: NY - County/City: (Kings County, NY)
Buried at: unknown

Godkin, Tec 5 Don E. (36169561) - Regiment/Battalion: 87 - Company/Battery/Troop: C

Died: June 1, 1943 - location unknown
General Order #20 dated June 2, 1943 at APO #257, c/o Postmaster, Los Angeles, CA
Home - State: MI - County/City: (Benzie County, MI)
Buried at: unknown

Grossi, Sgt. Joseph J. (32257418) - Regiment/Battalion: 33 - Company/Battery/Troop: B

Died: April 4, 1944 - location unknown
General Order #16 dated April 5, 1944 at Fort Benning, GA
Home - State: NJ - County/City: (Hudson County, NJ)
Buried at: unknown

Hampton, Pvt. James C. (38079347) - Regiment/Battalion: 48 - Company/Battery/Troop: I

Died: July 10, 1942 - location unknown
General Order #33 dated July 11, 1942 at Camp Polk, LA
Home - State: TX - County/City: Naples, TX
Buried at: unknown

Hopkins, Pvt. Newell C. (32249693) - Regiment/Battalion: 40 - Company/Battery/Troop: HQ 3rd Bn

Died: August 25, 1942 - location unknown
General Order #44 dated August 26, 1942 at Camp Polk, LA
Home - State: unknown - County/City: unknown
Buried at: unknown

Ivie, M/Sgt. Sylvester R. (6273055) - Regiment/Battalion: Supply - Company/Battery/Troop: HQ Co

Died: May 31, 1942 - location unknown
General Order #19 dated June 1, 1942 at Camp Polk, LA
Home - State: OK - County/City: (Garvin County, OK)
Buried at: unknown

Kasmarski, Pfc. Edward (32688092) - Regiment/Battalion: 203 - Company/Battery/Troop: D

Died: before June 1944 - desert at Waco, Texas
General Order #??? dated ??? at ,
Home - State: NY - County/City: Port Chester, NY
Buried at: Buried in US - WHERE?

Kirkhart, Pvt. William E. (35431871) - Regiment/Battalion: 434 - Company/Battery/Troop: HQ Btry

Died: August 3, 1944 - Tidworth Barracks, England
General Order #32 dated August 4, 1944 at Tidworth Barracks, England
Home - State: WV - County/City: (Wetzel County, WV)
Buried at: Buried WHERE?
(Honored in the Golden Book at St. Paul's Cathedral in London. Click here to see Golden Book web site.)

Kling, Pvt. Alvin G. (16092091) - Regiment/Battalion: 129 - Company/Battery/Troop: C

Died: October 12, 1943 - location unknown
General Order #40 dated October 12, 1943 at Fort Benning, GA
Home - State: WI - County/City: (Racine County, WI)
Buried at: unknown

Kolz, S/Sgt. Frederick C. (32029664) - Regiment/Battalion: 40 - Company/Battery/Troop: B

Died: February 1, 1944 - location unknown
General Order #5 dated February 2, 1944 at Fort Benning, GA
Home - State: NY - County/City: (Erie County, NY)
Buried at: unknown

Krogstad, Pvt. Clayton O. (36234544) - Regiment/Battalion: 33 - Company/Battery/Troop: D

Died: October 17, 1942 - location unknown
General Order #53 dated October 18, 1942 at 3 miles S. E. of Slagle, LA
Home - State: WI - County/City: (Douglas County, WI)
Buried at: unknown

Kuhrt, Pvt. Raymond D. (16049052) - Regiment/Battalion: 87 - Company/Battery/Troop: HQ Co

Died: May 12, 1942 - location unknown
General Order #15 dated May 13, 1942 at Camp Polk, LA
Home - State: WI - County/City: Milwaukee, WI
Buried at: unknown

La Belle, Tec 5 Henry E. (32233389) - Regiment/Battalion: 40 - Company/Battery/Troop: F

Died: October 3, 1942 - location unknown
General Order #51 dated October 4, 1942 at 2 miles east of Kurthwood, LA
Home - State: NY - County/City: (Erie County, NY)
Buried at: unknown

Lackney, Pvt. Martin G. (32257236) - Regiment/Battalion: 33 - Company/Battery/Troop: D

Died: October 17, 1942 - location unknown
General Order #53 dated October 18, 1942 at 3 miles S. E. of Slagle, LA
Home - State: NY - County/City: (Queens County, NY)
Buried at: unknown

Lindsay, Pvt. Lloyd W. (33141964) - Regiment/Battalion: 48 - Company/Battery/Troop: H

Died: June 21, 1942 - location unknown
General Order #24 dated June 22, 1942 at Camp Polk, LA
Home - State: PA - County/City: (Indiana County, PA)
Buried at: unknown

Lockhart, Sgt. Oliver T. (12046877) - Regiment/Battalion: 33 - Company/Battery/Troop: D

Died: October 17, 1942 - location unknown
General Order #53 dated October 18, 1942 at 3 miles S. E. of Slagle, LA
Home - State: NJ - County/City: (Middlesex County, NJ)
Buried at: unknown

Matlock, Cpl. John W., Jr. (38082955) - Regiment/Battalion: 489 - Company/Battery/Troop: A

Died: December 15, 1942 - location unknown
General Order #63 dated December 14, 1942 at North Camp Polk, LA
Home - State: TX - County/City: Frost, TX
Buried at: Frost Cemetery; Frost, TX

Meacham, Pvt. David L. (14062932) - Regiment/Battalion: 129 - Company/Battery/Troop: A

Died: November 4, 1943 - location unknown
General Order #45 dated November 4, 1943 at Fort Benning, GA
Home - State: NC - County/City: (Mecklenburg County, NC)
Buried at: Elmwood Cemetery; Mecklenburg County, NC

Milner, Pvt. Marcus (34273400) - Regiment/Battalion: 33 - Company/Battery/Troop: E

Died: August 14, 1942 - location unknown
General Order #40 dated August 15, 1942 at Camp Polk, LA
Home - State: AL - County/City: (Jefferson County, AL)
Buried at: unknown

Mueller, Pfc. Willie A. M. (18103015) - Regiment/Battalion: 40 - Company/Battery/Troop: D

Died: July 21, 1943 - location unknown
General Order #27 dated July 22, 1943 at APO #257, c/o Postmaster, Los Angeles, CA
Home - State: TX - County/City: (Comal County, TX)
Buried at: unknown

Mullane, Pvt. Edward P. (32285514) - Regiment/Battalion: 17 - Company/Battery/Troop: B

Died: September 25, 1943 - location unknown
General Order #38 dated September 27, 1943 at Fort Benning, GA
Home - State: NY - County/City: (Onondaga County, NY)
Buried at: unknown

Phillips, 2nd Lt. Harper S. (O-1 012 416) - Regiment/Battalion: 31 - Company/Battery/Troop: unknown

Died: date unknown - location unknown
General Order #59 dated November 23, 1942 at North Camp Polk, LA
Home - State: IL - County/City: (DeKalb County, IL)
Buried at: unknown

Plicht, Pvt. Charles G. (36118490) - Regiment/Battalion: 489 - Company/Battery/Troop: Svc

Died: April 27, 1943 - location unknown
General Order #11 dated April 28, 1943 at APO #257, c/o Postmaster, Los Angeles, CA
Home - State: MI - County/City: (Wayne County, MI)
Buried at: unknown

Pollock, Pfc. Albert E. (32249419) - Regiment/Battalion: 31 - Company/Battery/Troop: E

Died: July 31, 1943 - location unknown
General Order #28 dated July 31, 1943 at APO #257, c/o Postmaster, Los Angeles, CA
Home - State: NY - County/City: (New York County, NY)
Buried at: unknown

Prout, Pvt. Chester K. (15090091) - Regiment/Battalion: 48 - Company/Battery/Troop: D

Died: June 21, 1942 - location unknown
General Order #25 dated June 22, 1942 at Camp Polk, LA
Home - State: OH - County/City: (Belmont County, OH)
Buried at: unknown

Reed, Cpl. Grady E. (34192171) - Regiment/Battalion: 434 - Company/Battery/Troop: HQ Btry

Died: August 3, 1944 - Tidworth Barracks, England
General Order #31 dated August 3, 1944 at Tidworth Barracks, England
Home - State: TN - County/City: (Obion County, TN)

Reid, Pvt. George P. (38129271) - Regiment/Battalion: 87 - Company/Battery/Troop: C

Died: April 12, 1943 - location unknown
General Order #9 dated April 13, 1943 at APO #257, c/o Postmaster, Los Angeles, CA
Home - State: OK - County/City: (Adair County, OK)
Buried at: unknown

Roberts, Pvt. James C. (34188929) - Regiment/Battalion: 33 - Company/Battery/Troop: D

Died: December 11, 1942 - location unknown
General Order #62 dated December 14, 1942 at North Camp Polk, LA
Home - State: TN - County/City: (Hardin County, TN)
Buried at: unknown

Russell, Pvt. Albert F. (31064521) - Regiment/Battalion: 48 - Company/Battery/Troop: Hq Co 3rd Bn

Died: January 31, 1943 - location unknown
General Order #5 dated February 4, 1943 at North Camp Polk, LA
Home - State: MA - County/City: (Middlesex County, MA)
Buried at: unknown

Salsbury, 1st Lt. Leonard W. (O-379 937) - Regiment/Battalion: 434 - Company/Battery/Troop: HQ Btry

Died: July 23, 1942 - Lawton, OK
General Order #35 dated July 25, 1942 at Camp Polk, LA
Home - State: FL - County/City: (Hardee County, FL)
Buried at: unknown

Schwingel, Pvt. Walter H. (34284046) - Regiment/Battalion: 440 - Company/Battery/Troop: HQ Btry

Died: November 14, 1942 - location unknown
General Order #57 dated November 16, 1942 at North Camp Polk, LA
Home - State: TN - County/City: (Davidson County, TN)
Buried at: unknown

Sheley, Pfc. Thomas E. (34240233) - Regiment/Battalion: 31 - Company/Battery/Troop: HQ 1st Bn

Died: May 21, 1943 - location unknown
General Order #17 dated May 24, 1943 at APO #257, c/o Postmaster, Los Angeles, CA
Home - State: FL - County/City: (Manatee County, FL)
Buried at: unknown

St. Marie, Pvt. Harold L. (37324042) - Regiment/Battalion: 31 - Company/Battery/Troop: I

Died: June 27, 1943 - location unknown
General Order #25 dated June 30, 1943 at APO #257, c/o Postmaster, Los Angeles, CA
Home - State: MN - County/City: (Beltrami County, MN)
Buried at: unknown

Thompson, Pfc. Alvin W. (36234872) - Regiment/Battalion: 38 - Company/Battery/Troop: B

Died: June 17, 1944 - Tidworth Barracks, England
General Order #24 dated June 17, 1944 at Tidworth Barracks, England
Home - State: WI - County/City: Argyle, WI
Buried at: Yellowstone Lutheran; Argyle, WI
(Honored in the Golden Book at St. Paul's Cathedral in London. Click here to see Golden Book web site.)

Thompson, Cpl. Claude T. (18102966) - Regiment/Battalion: 87 - Company/Battery/Troop: D

Died: July 1, 1942 - location unknown
General Order #30 dated July 2, 1942 at Camp Polk, LA
Home - State: TX - County/City: (Bexar County, TX)
Buried at: unknown

Thurnau, Tec 5 Walter W. (36313492) - Regiment/Battalion: 147 - Company/Battery/Troop: 147

Died: December 20, 1942 - 2 miles east of Geneva, IL
General Order #64 dated December 21, 1942 at North Camp Polk, LA
Home - State: IL - County/City: Elgin, IL
Buried at: unknown

Wall, Pvt. Lodis J. (34261497) - Regiment/Battalion: 40 - Company/Battery/Troop: B

Died: February 1, 1944 - location unknown
General Order #5 dated February 2, 1944 at Fort Benning, GA
Home - State: GA - County/City: Winder, GA
Buried at: unknown

Walsh, Pvt. John R. (33143649) - Regiment/Battalion: 40 - Company/Battery/Troop: HQ Co 2nd Bn

Died: November 12, 1942 - location unknown
General Order #57 dated November 16, 1942 at North Camp Polk, LA
Home - State: PA - County/City: (Philadelphia County, PA)
Buried at: unknown

Weaver, 2nd Lt. Alfred E. (O-1 013 958) - Regiment/Battalion: 48 - Company/Battery/Troop: unknown

Died: August 7, 1943 - location unknown
General Order #29 dated August 9, 1943 at APO #257, c/o Postmaster, Los Angeles, CA
Home - State: AR - County/City: (Pulaski County, AR)
Buried at: unknown
---
---
Click here for information about contacting me.
Copyright © 2013 by Wesley Johnston
All rights reserved
7th Armored Division Home Page
7th Armored Division Overseas Deaths
Active overview of all pages at the 7th Armored Division web site